Sako TRG-22 and TRG-42
This is a direct, screw-in replacement for your original Sako TRG 22 and TRG 42 bolt handle. We CNC machine these from Grade 5 titanium alloy then bead blast and bake on a durable Cerakote-H finish to match the color of the original Sako metalwork.

NOTE:  Sako have changed the design of bolt handles in TRGs made from 2013 onwards. Our handle is designed to only fit TRG models where the handle threads directly into the bolt body (pre-2013 models). If unsure remove your factory handle and email us a photo and we'll confirm back. Our handle will not be a 'drop-in' fit for the 2013+ updated model.

Our version has a 5/16" x 24 UNF thread which allows fitment of just about any aftermarket knob available as opposed to being forced to retain the original plastic knob with the uncommon metric thread. Our handle is the same length with no taper. We include our oversized bolt knob made from genuine carbon fiber which provides a slight increase in overall length and better bolt leverage.

$59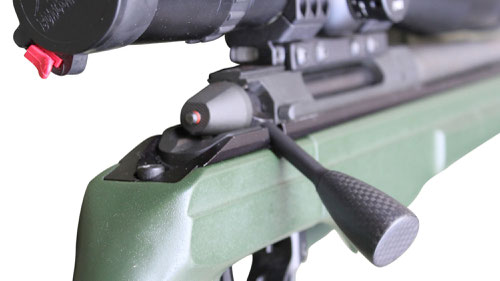 Fitting Guide
One pre-2013 models, the factory handle of the TRG 22 and TRG 42 are threaded directly into the bolt body using a metric M6 x 1 thread. The handle can be removed by firstly removing the factory knob then wrapping the handle in a strip of thick leather and securing firmly in a bench vise with the bolt body positioned parallel and just above the vise jaws. The bolt body can now be rotated anti-clockwise to unscrew from the handle. Clean threads if necessary then screw the new titanium handle using the smaller threaded end (M6 x 1) into the bolt body firmly by hand. Following this the bolt knob can be screwed onto the end of the bolt handle - again firmly by hand.
Notes
(1) The strip of thick leather (or padded vise jaws) serve to grip the bolt handle firmly and avoid marring the finish.
(2) Never use excessive force to unscrew the factory handle as this may result in it breaking / snapping potentially causing a difficult task of removing the remaining stem still threaded into the bolt body.
(3) If using a thread locking compound to attach the bolt handle or bolt knob, we don't recommend using anything stronger than purple Loctite (222) or equivalent.
(4) If using a stronger thread locking compound, be very careful never to overheat the bolt if using a propane torch to remove the handle in the future.