Savage Centerfire

Fits models 10, 110, 11, 111, 12, 14, 114, 16, 116, 212, 220 and the Stevens 200

'Standard' version available for both right and left-handed actions, 'fluted' version available for right-handed actions only. Does not fit the Savage Axis.

A fully CNC machined Grade 5 Titanium Alloy handle for Savage Centerfire models. No other rifle benefits more in weight savings by replacing the excessively heavy factory handle. Our titanium handle when fitted with a carbon fiber knob can be over 70% lighter and provide the ability to customize overall length to suit individual preferences.

We start with only the best quality grade 5 titanium alloy (Ti6Al4V) and CNC machine each handle to tight tolerances to fit the factory savage bolt. There are no castings, forgings or rough finishes. We bead blast, clean, visually inspect and test fit each to a factory bolt before packing. The resulting finish is a smooth non-glare titanium grey color.

Pricing below is without a knob supplied. We are producing 3K carbon fiber knobs, milspec anodized 7075-T76 alloy knobs, and intermediate-sized titanium knobs with a tough DLC black finish. These options are available on our USA webstore at checkout. If you want to use a different knob from elsewhere, the threads of the handle are 5/16"x24 TPI and 0.5" (12.7mm) long.
Standard: $55 (no knob)

Fluted: $68 (no knob)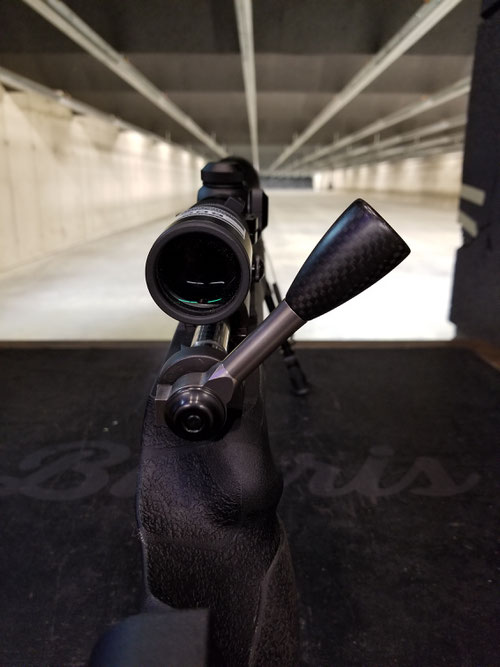 Minor modification of the collar may be required !
With so many models and sub models of different vintages including more recently available aftermarket bolt-bodies, we have found that the dimensions between individual Savage rifles varies greatly. All our Savage handles are machined as a 'tight fit' only as indicated in the diagram below. Some modification to these dimensions may be required when fitting depending on the tab measurements of your rifle's bolt body.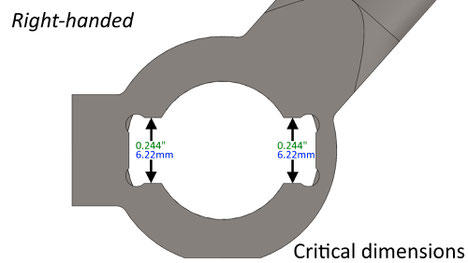 Fitting Guide
The handles are secured to the rear of the bolt body by a Bolt Attachment Screw ('BAS') - usually fixed using a 1/4" hex head. Firmly secure your bolt in a well-padded vise. The existing handle can be removed from the bolt body by turning this screw counter-clockwise. Once removed, the titanium handle will slot into place. If your bolt body dimensions are larger than usual, some trimming of our collar will be required (as detailed above) - a small fine file is best for this purpose. Apply a small amount of quality bolt grease to any surface modified along with the threads before reassembly.