Tikka T1x

Coming Soon...
This is a direct, screw-in replacement for your original Tikka T1x bolt handle CNC machined from Grade 5 titanium alloy. Our handle consists of two pieces: a CNC machined titanium sleeve that matches the external profile and finish of the original factory handle available in either natural or with a DLC black finish. This is secured into the bolt body by a titanium fastener with the common 5/16"x24 TPI thread to suit a wide variety of bolt knobs including our carbon fiber version (included)

Our handle and knob combo fits all Tikka T1x models in both left and right handed configurations. We include our oversized bolt knob made from genuine carbon fiber (5/16"x24 TPI thread) .

$59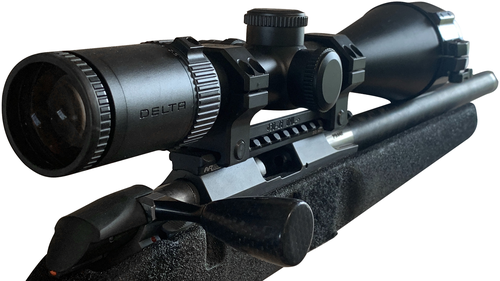 Fitting Guide
The factory handle of the Tikka T1x is retained in the bolt body by a hex head bolt using a metric M5 thread. Our handle uses a custom titanium grade 5 bolt with the same M5 thread but with a tapered and threaded end for the bolt knob to screw onto (5/16"x24 TPI). A profiled titanium sleeve is held captive between this bolt knob and the bolt body once assembled.

The factory handle can be removed by firstly removing the factory knob then using a hex key to unscrew the fastener retaining the factory handle to the bolt. Our handle can then be installed by inserting our fastener through the sleeve with the hex socket facing away from the bolt body. Screw the M5 (smaller thread) end of this fastener into the bolt body firmly using a hex key. The bolt knob can then be screwed into the end of the handle. Ensure sleeve is aligned to mating end of spigot on bolt body as pictured above.

Notes
(1) If using a thread locking compound to attach the bolt handle or bolt knob, we don't recommend using anything stronger than purple Loctite (222) or equivalent.
(2) If using a stronger thread locking compound, be very careful never to overheat the bolt if using a propane torch to remove the handle in the future.