Savage Centerfire

For models 10, 110, 11, 111, 12, 14, 114, 16, 116, 212, 220, Stevens 200 and many more...

*** DISCONTINUED ***

A fully integrated carbon fiber bolt handle & knob for several Savage Centerfire models. No other rifle benefits more by replacing the original handle with our monocoque carbon fiber unit. The oversized cast steel options from Savage are excessively heavy. At an average of 1.2oz (34g), our unit is over 70% lighter than these factory handles at 4.2oz (120g)! - without making any compromises on strength, finish or quality.

Using the same 1-piece carbon fiber handle from our Kimber 8400, this unit screws directly into a skeletonized bolt collar CNC machined from 4140 ordnance steel. We send these steel collars out for QPQ nitriding (known also as 'Melonite' and 'Tenifer') resulting in a high surface hardness and dry lubricity for a very slick movement over the rear baffle. Fits most of the modern Savage centerfire rifles based on the 10 / 110 actions (does not suit the Axis). Please contact us if you have any questions relating to compatibility before ordering. Available in both left and right-hand versions. We will also be releasing a "Factory Fit" version soon with the key dimensions of the collar machined larger to match the cast factory handle for those shooters who want a guaranteed 'drop-in' no-gunsmithing fit.

$52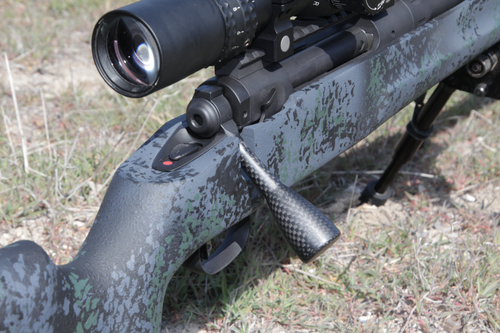 Minor modification of the steel collar may be required !
With so many models and sub models of different vintages including more recently available aftermarket bolt-bodies, we have found that the dimensions between individual Savage rifles varies greatly. All our Savage handles are machined as a 'tight fit' only as indicated in the diagram below. Some modification to these dimensions may be required when fitting depending on the tab measurements of your rifle's bolt body.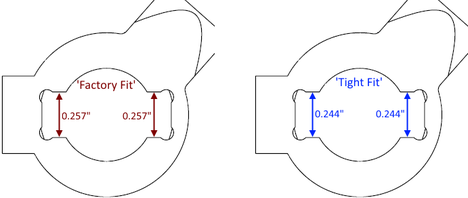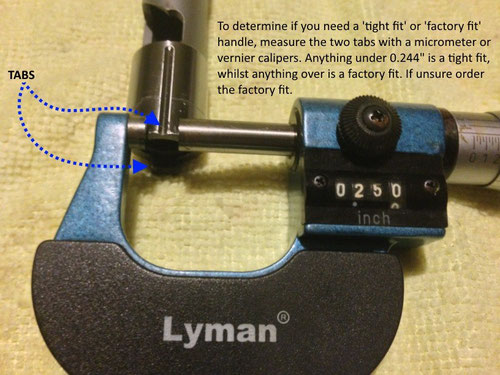 Fitting Guide
The handles are secured to the rear of the bolt body by a Bolt Attachment Screw ('BAS') - usually with a 1/4" hex head. Firmly secure your bolt in a well-padded vise. The existing handle can be removed from the bolt body by turning this screw counter-clockwise. Once removed, the carbon fiber handle will slot into place. If your bolt body dimensions are larger than usual, some trimming of our collar will be required (as detailed above). Apply a small amount of quality bolt grease to any surface modified along with the threads before reassembly.

Notes
(1) Do not to stand on or place excess force the on the carbon fiber bolt handle when unscrewing the BAS! This can damage the aluminum threads inside the carbon fiber handle causing them to fail or loosen. Always mount the bolt in a padded vise to disassemble or reassemble.

(2) Please ensure you have ordered the correct bolt handle for your rifle (we manufacture left-handed and right-handed versions in both 'tight-fit' and 'factory-fit' variants)
(3) Do not over tighten the large bolt screw when reassembling

(4) We assemble the carbon fiber handle into the steel collar with a 'permanent' metal epoxy which has an advertised 4500 PSI strength once cured. We haven't designed the two pieces to be disassembled. If you have a requirement for individual parts, please contact us to discuss.